History of Marston Hill
Who was Charles S. Allwood?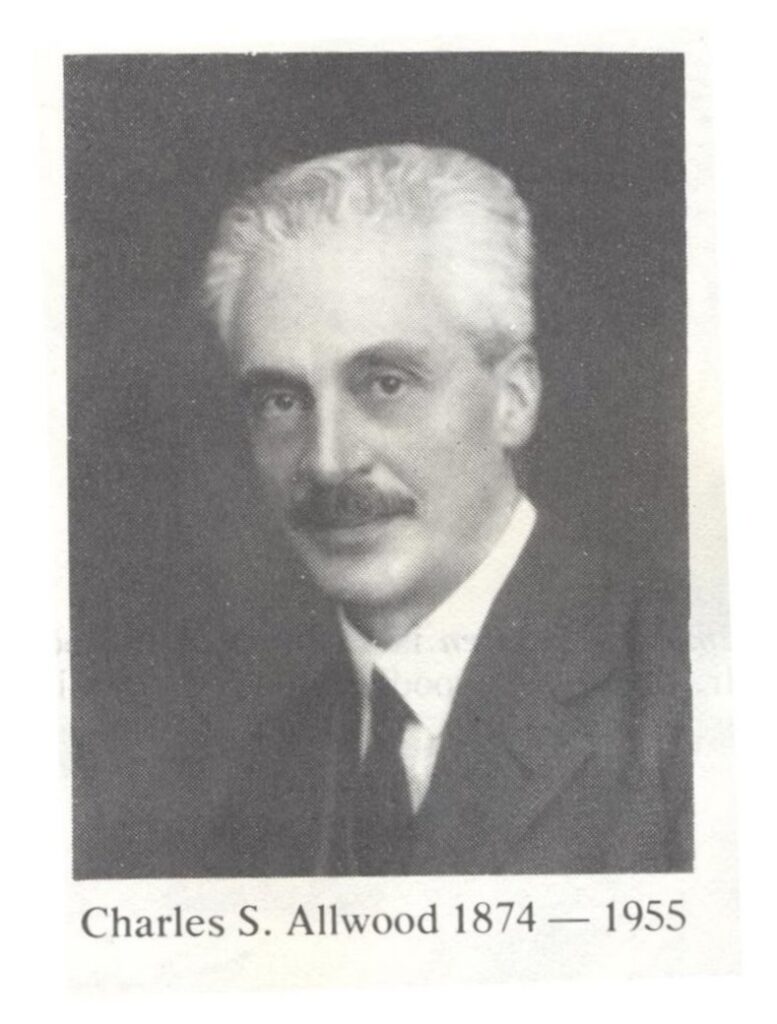 • Founder, Anglo-American Center in Marston Hill
• English immigrant
• English Teacher in Swedish Schools
• Radio Pioneer
Charles Allwood attended Saltley College for two years 1893 – 1894, and then Worcester Training College 1896 – 1900. While he was at Worcester College, Lord Morton hired him as a Tutor for his boys, and invited Charles Allwood to go on a pleasure trip on his yacht to the West Coast of Norway in 1898. It seems likely that his interest in Scandinavia was awakened by this thrilling voyage.

In Mullsjö for the first time
Charles Allwood first came to Sweden in August, 1902. Shortly after his arrival he became acquainted with Mr. Adolf Lindstedt, a manufacturer of Venetian blinds, and took up his lodgings with him at Södra Vägen 3 – 5 at Heden in Göteborg (Gothenburg). The death of his only brother was a stunning blow to Charles. It cut off an essential tie between him and England. In 1909 he got married with Aina Åkerhielm, Swedish Divinity Teacher at the Rudebeck school in Göteborg in Sweden. In 1912 they went to visit Aina's father and mother, who had moved to the small hill resort of Mullsjö in the south central Swedish highlands in the province of Västergötland, some twenty miles from the city of Jönköping. They immediately liked Mullsjö with its unspoilt forests and lakes and clean, bracing air. They decided to share a house called Hedvigsro with Aina's parents and moved to Mullsjö.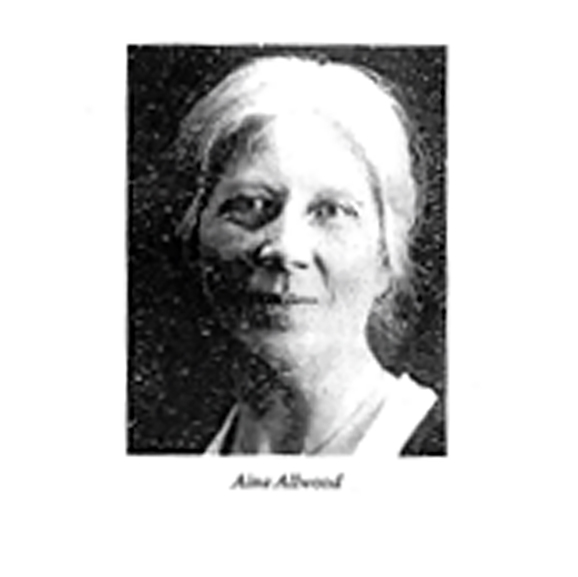 Swedish teacher and grammarian of English
After completing his studies at Durham University in the Faculty of Theology and returned to Sweden, Charles Allwood became an Assistant to the Royal Swedish Board of Education. His work was to visit every school in the whole of Sweden where English was taught to give model lessons and help the teachers make the subject more interesting. He was the first person ever to be employed in this capacity.
He became more and more interested in the pedagogical problems of teaching English to foreigners. Charles Allwood had also long been much in demand as a translator from Swedish into English.
Marston Hill
In 1916 Charles Allwood bought a piece of land at Mullsjö from the Havstenshult farm in Björkäng. The piece of land in Mullsjö was planned as an English park for a school already in 1916. In 1921 he built his first house, the Stone Cottage, where he lived in the summers while he was building his home Marston Hill. Later many of the teachers at his summer courses lived in the simple but cosy Stone cottage with its open fireplace – Keth Laycock, Vatsaraja Bhanot, Charles McEaddy and many others.
The house Marston Hill, situated above the Stone Cottage, could be completed after two years, in autumn of 1923. Charles Allwood gave the name of Marston Hill to his home to indicate that is situated in a hill and that its origins were to be found in Marston Green in Warwickshire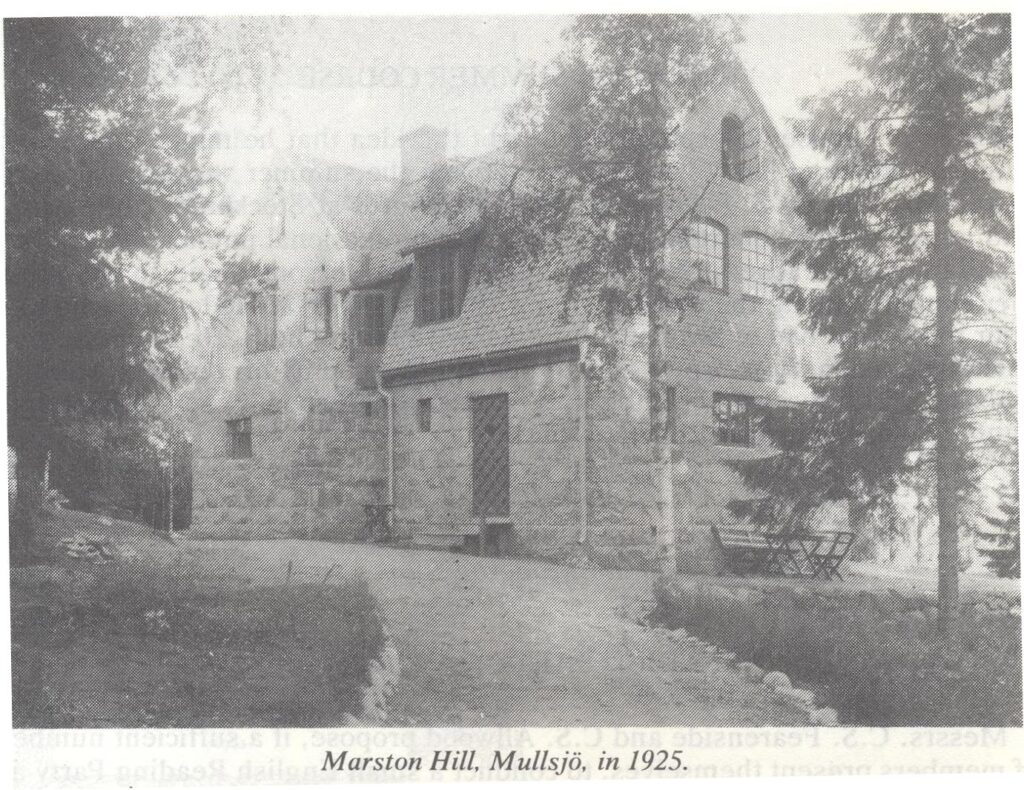 Summer courses
When Allwood's house was completed he got the idea that he might arrange an English "Reading Party", at his home during the summer vacation. Eight persons came to the course. Among them was a young student, Ingemar Hedenius, who was later to become one of Sweden's best known philosophers. He expressed on several occasions how deeply he had been influenced by his summer at Mullsjö.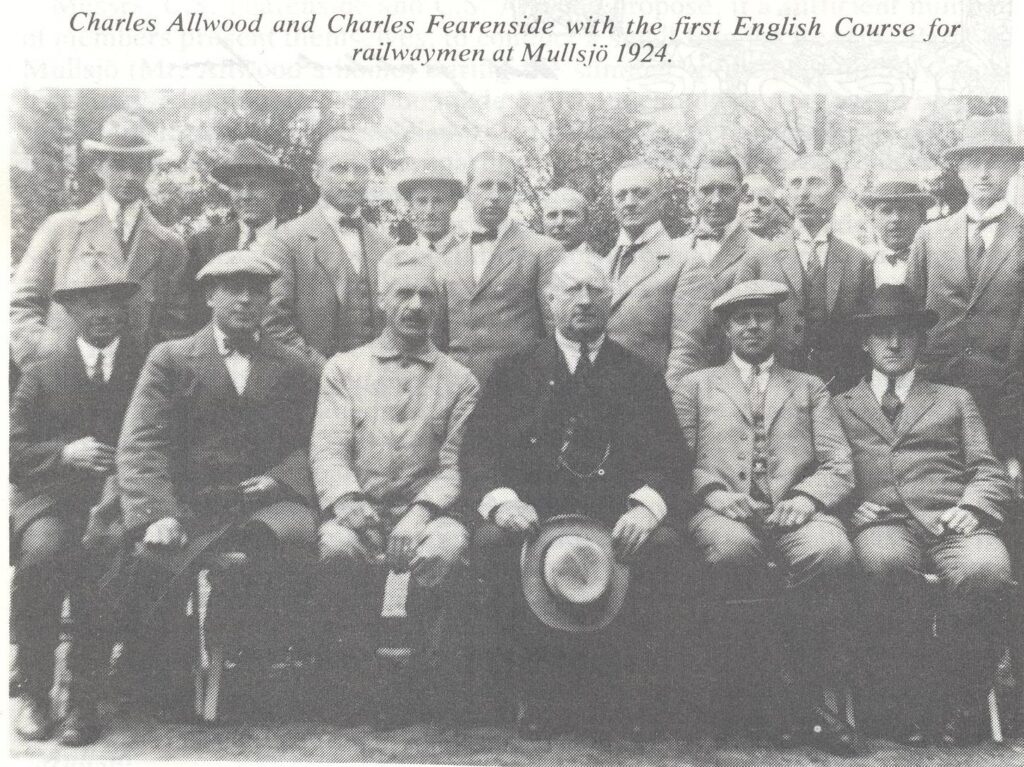 During the second half of the summer of 1924 Charles Allwood and Charles Fearenside organized a second English course at Mullsjö, this time for Swedish railwaymen from the whole country. The course was a big success, and soon became the main feature of the Mullsjö summer activities for many years to come. Mr. Allwood had always been interested in Christian missionary work, and wanted to help Swedish missionaries from all denominations to learn English. Many would-be missionaries attended the summer course at Mullsjö.
In this way, the English summer school was founded in 1924 by Charles Allwood, who was also the assistant of the Royal Swedish board of education (Kgl Skolöverstyrelsen) for English in Swedish schools. The boarding school today contains eleven buildings, two of which are only used in the summer. Approximately 10 000 persons, most of them from Sweden and Finland, have been educated in English at the school. The school has from the start been a language laboratory for designing better methods for teaching modern languages, especially English. The so called "direct method" in combination with other methods has been used at the Anglo-American Center in combination with other methods since the 1920s.
In the late twenties Charles Allwood was asked by the powerful Swedish Cooperative Union to make the first English gramophone course for them in Berlin. He accepted the offer, and thus became a pioneer in this field also.
All of the radio broadcast teaching of English in Sweden from 1925 was conducted by Mr. Charles Allwood for fifteen years. The ratings by the Swedish Radio showed that the number of students for his lessons were between 300 000 and 400 000 persons per week.
In 1942 some descriptions of the new methods for language teaching developed at the school were collected by Martin Allwood, the son of Charles and Aina Allwood in the book "Levande språkundervisning" (Living language teaching). Further descriptions of the new methods were included in "Universiteten i en ny värld" (Universities in a new world) (1944) and in "Experiment i Mullsjö (Experiments in Mullsjö (1949).

Other activities, related to the English Summer School
The study of intonation in linguistics was introduced in Sweden by Mr. Keth Laycock, student of Ida C. Ward and teacher at Marston Hill since 1932. The American variant of English was taught as an equal language form at Marston Hill (between 1950-2000 called the Anglo-American Center) from 1934 – first by Miss Edith Forbush, Pueblo, Colorado.
Dr. I. A. Richards' "New Criticism", later very influential in Sweden, was introduced at the Anglo-American Center in 1936 by Martin Allwood. The method was adapted to Swedish conditions in the investigation "Läsare bedömer litteratur" (Readers judge literature) (1942).
Debates in the English style (like in parliament and the Cambridge Union Society) were held at Marston Hill and later the Anglo-American Center, from 1936.
English plays were performed regularly by the theater society of the school MADS (Marstonian Amateur Dramatic Society) from 1936. In 1939 the Marstonian Amateur Dramatic Society (MADS) at the English summer school decided to perform Act I of William Shakespeare's play Hamlet. During Charles Allwood's leadership (with assistance from Martin Allwood) about forty English and American plays were acted at the summer school. Some of the actors and theatre professionals making their first appearance at the school were Kerstin Rabe (in Hamlet 1939), Lars Engström, Dan Lipchütz and Lars Forssell (in Stephen Spencer's "Trial of a Judge" in 1945).
Charles Allwood also held one winter course, during the Christmas vacation of the fiercely cold winter of 1940 – 1941. Mr. Keth Laycock helped to teach the course. He also took a very active part in the winter sports as for example skiing.
The school magazine "The Eagle Eye" was written and printed by the students and teachers every year from 1942. The first editor was Bengt Peters and the first printer Tom Alwerud. Lars Forssell made his début as a poet in 1945 in The Eagle Eye.
Art was taught at the school since 142. Some of the teachers were Adja Yunkers, Nils Ryndel, Leo Pruul, Carl Nesjar, Igor Janczuk and Enelia Paz Gómez.
The first holistic Swedish study of a small town was conducted from the school by Martin Allwood, in 1942-1943, with support from among others, Gunnar and Alva Myrdal.
After the defeat of Germany at the end of Second World War in 1945 came culmination of number of students attended the summer courses in Mullsjö: 110 students came to the summer course, an all-time record.

More activities during the 40s – 50s
With very slight changes the pattern set by Charles Allwood in the twenties and thirties was taken over by his son Martin S. Allwood in the forties and fifties.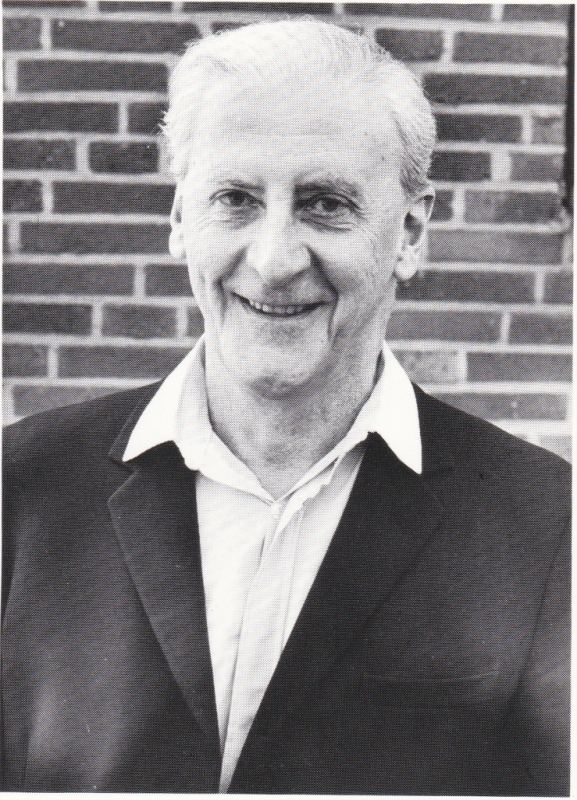 The first Scandinavian conferences of the European Movement were held at Hawk Ridge, the new center, in 1955 and 1956. The first year about 50 young people came from Berlin and the second-year representatives from more than twenty European countries. During the conference, the European flag – a green E on white background – was flown. This flag was designed by Winston Churchill, whom Charles Allwood admired very much.

More Scandinavian poetry was probably translated to English at Marston Hill and the Anglo-American Center than anywhere else. Edith Södergran, Harry Martinsson and Gunnar Ekelöf were, for example, translated already in 1947, More than 2000 poets were presented in English in "20th Century Scandinavian Poetry" (1950). A new, even more comprehensive presentation, " Modern Scandinavian Poetry" was made as an assignment from Nordiska Kulturrådet (The Swedish Board for Culture) and the Swedish Institute 1981-82.

Keth Laycock about Marston Hill:
…Later, Dr. Charles Allwood's Summer school was to be developed into the Anglo-American Center by his son and heir, Dr. Martin Allwood who has not only been faithful to his Father's aim to promote Anglo-Swedish goodwill but has carried the work into world field of multi-racial understanding.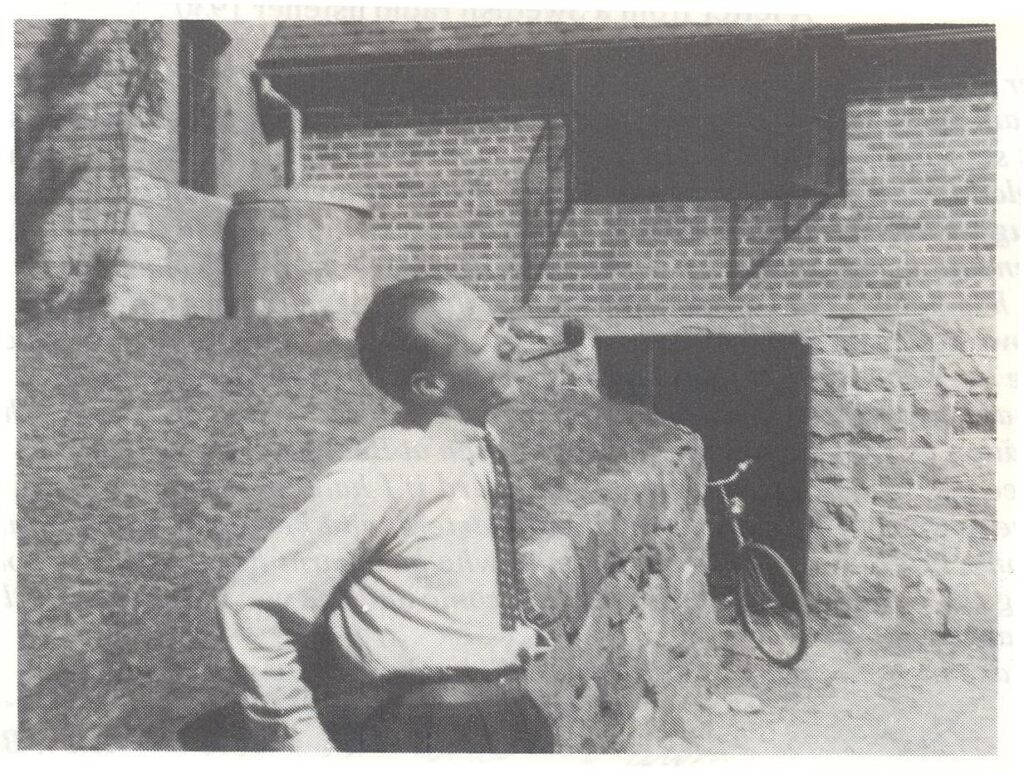 Over the years the visitors to Mullsjö from overseas have often given "Main Street" a cosmopolitan look. During my long association with Mullsjö and with literally hundreds of summer visitors I can hardly call to mind a single person who did not like the place and fully enjoy himself there. A sense of community was created at Marston Hill by sharing daily work and play and the feeling of well-being was heightened by the good will that prevailed "down in the village."To me, Mullsjö is a place where one is always learning something of value and where one is happy. How many would say the same![1]

Hwang Tsu-Yü at Marston Hill

Mr. Hwang Tzu-Yü from Kaifeng in Hunan, China, worked at Mr. Allwood's summer school twenty-two years. Charles Allwood liked Hwang Tzu-Yü very much, and later showed his respect for Mr. Allwood by trying to see him before he saw his family when he returned from his lecturing tours round Sweden. The Analects of Confucius were translated to Swedish from Chinese at the Anglo-American Center by Hwang Tzu-Yü 1949. One of the buildings at the school (The Chinese Pavilion) was built in Chinese style in order to honor Hwang Tzu-Yü for his work making Chinese culture known and appreciated in Sweden (1957).


Hwang Tzu-Yü about Marston Hill:
In the summer of 1949, my newly established family and I moved from Stockholm to Mullsjö, partly on account of the political change taking place in my home country. (I worked in the Chinese embassy in Stockholm until then.) We lived in Mullsjö until the summer of 1962. These years were probably the most important period of my life, not only because both my two sons, Philip and Stephen, were born there but because at Mullsjö I began to be a "Swede" and learned the truth of everyday life in this country. Before I moved to Mullsjö, I was a lonely stranger, though an honoured guest ; when we left Mullsjö, I became "one of them", a "Swede", though I still looked as Chinese as when I first visited Mullsjö.
… Life has been very kind to my family and me while we lived in Mullsjö and after we moved from there to Göteborg in 1962… So deep is our affection towards Mullsjö that even now, when some Swedes ask my two sons where they came from, both answer without hesitation: "Mullsjö".[2]
References:
ALLWOOD, Martin. An English Gentleman in Sweden. Mullsjö: PERSONA PRESS, 1983.
ALLWOOD, Martin. Jag minns det vackra Mullsjö: 230 konstnärer och en ort I deras liv. Habo: Habo-Tryck AB, 1975.
[1] ALLWOOD, Martin. Jag minns det vackra Mullsjö: 230 konstnärer och en ort I deras liv. Habo: Habo-Tryck AB, 1975.
[2] ALLWOOD, Martin. Jag minns det vackra Mullsjö: 230 konstnärer och en ort I deras liv. Habo: Habo-Tryck AB, 1975.

Marston Hill – Recent History
After Martin Allwood's death, his eldest son Jens Allwood took over Marston Hill. The activities consisted and still consists of several parts. Together with a group of friends consisting of Elisabeth Ahlsén, Merrick Tabor, Georg Wikman, Leif Eriksson, Peter-Juel Henrichsen, Arne Collen, Bilyana Martinovski, Carl-Alexander Allwood, Daniel Ruhe, he started the Marston Hill Economic Society, which arranges courses and other activities at Marston Hill.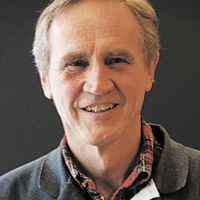 Since the 1960s, Jens Allwood had been involved in teaching English and directing the English summer courses and then started to arrange academic summer courses in 1979 and between 1979 and 1991 a number of courses were arranged: Psycholinguistics, Language teaching, Artificial Intelligence (the first course in this in Sweden 1982), Analysis of spoken language interaction and Language acquisition. We have also arranged conferences and symposia at Marston Hill, e.g. on the nature of acoustic analysis in spoken language and the nature of social signal processing, the nature of trust in communication and the nature of social signal processing.The first two also resulted in collections of papers from the conferences being published.
In 2002, the name Marston Hill Intercultural Center for Quality of Life was adopted (instead of the Anglo-American Center which had been the name from 1950 to 1999), honoring the past history of intercultural activities and signifying a broader aim than previously as well as that the teaching of English was no longer the main focus. The activities since then have been of several types, arranged by for example, CBS (the Copenhagen business school) and Jönköping University, in addition to Marston Hill economic society, such as:
(i) academic conferences on different topics,
(ii) courses in Swedish for students from universities in other countries and for immigrants, (iii) courses in Esperanto,
(iv) courses in qi gong and yoga,
(v) meetings of the Swedish section of SMN – The Scientific and Medical Network,
(vi) seminars on a number of topics,
(vii) thematic film festivals,
(viii) 2 Erasmus schools with participants from 8 countries (in cooperation with the Immigrant Institute)
(ix) Conferences and Symposia
(x) 4 summer schools on cognitive science (for Swecog),
(xi) Summer school on social signal processing (for the SSPNet – an EU Network of Excellence),
(xii) Since 2014, Marston Hill has hosted courses for university teachers and PhD students from China on environment and nature and on media and intercultural communication.
Marston Hill also hosted the EU financed LEADER project Green Quality of Life, arranging activities linked to nature and environment.
There is a Mini book shop at Marston Hill with antiquarian books containing both scientific publications and fictional novels in around 10 languages. A section of the book store contains books by Martin Allwood. There are also books by Jens Allwood, Kristin Allwood and Carl Martin Allwood.
Since around 2000, Marston Hill is also a popular Bed-and Breakfast site. Cottages, rooms, apartments and houses can be rented for shorter or longer periods. In addition, it is possible to rent rooms for conferences and meetings. The natural park of Marston Hill provides opportunities for meditation and many outdoor activities, e.g. barbecue, boule, badminton, volleyball, and croquet, as well as close access to nature walks and swimming, biking, horse riding, golf, canoeing and skiing.